Typically, there are the following ways to purchase products online from China for the importers/business owners:
Attending the Exhibition is the most direct, quick, and effective way to find products and suppliers.
You can see the product's quality and communicate with the sellers face-to-face, this is the way of labor-saving and time-saving. And that's why there are so many different kinds of trade shows around the world.
China's most famous exhibitions attract thousands of buyers every year.
The supplier introduced by Acquaintances is the most reassuring, because of the layer of friends or classmates, colleagues relations, they are more familiar with each other, so it will not be deceived. And the introducer is familiar with both the buyer and the seller, and knows the needs and characteristics of both sides, so it is easy to promote the business.
Going to the market is the most well-known method to source products and suppliers. As long as you have the time, walking in the right market around, you are absolute can get the right products and suppliers.
It is very economical and convenient to source the products and the suppliers Online.
All you have to do is type in keywords with a computer, and you'll find hundreds of the products and suppliers in a moment.
As technology advances, information becomes available more readily. People don't like to visit China directly to source products and suppliers, especially for small orders. Because the human cost is too high, and may not have a good result. Acquaintance introductions don't happen very often. Participation in the exhibition is also subject to time and place restrictions.
So, the way to source products online is more and more popular. Sitting in an office, with a computer, you can contact and deal with suppliers thousands of kilometers away. Whether you're a large wholesaler, a brand distributor, a small retailer, a superstore owner, or an online seller on eBay or Amazon, you can find the right product online.
At present, the most well-known International B2B trading platforms in China are Alibaba, MIC, and global sources.
The features of these platforms are described below.
As we all know, Alibaba is an export marketing service company that helps small and medium-sized enterprises expand international trade. It is based on the Alibaba International Trading Platform, the world's leading inter-business e-commerce site,  to expand international trade by showing and promoting suppliers and products to overseas buyers and then obtaining trade opportunities and orders.
Alibaba is one of the first network platforms for export enterprises.
Features: Online display, Transactions online, and  logistics options online
Alibaba is a Chinese company, but it is open to foreign suppliers. There are two main types of suppliers, one is the factory, the other is the trader. You can select different suppliers based on your needs, and sometimes even run into suppliers in your local country.
For example, with the recent coronaviruses epidemic, you may need a mask. Type the keyword "mask" on the main page.
You can choose the different kinds from the category. And there are 2 options in Supplier types: Trade Assurance and Verified Supplier. These two certifications are internal to Alibaba to ensure the security of the transaction.
You can select the suppliers from different country if you like in the Supplier country/Region.
Past Export Country / Region is the Country or Region where the supplier has previously exported.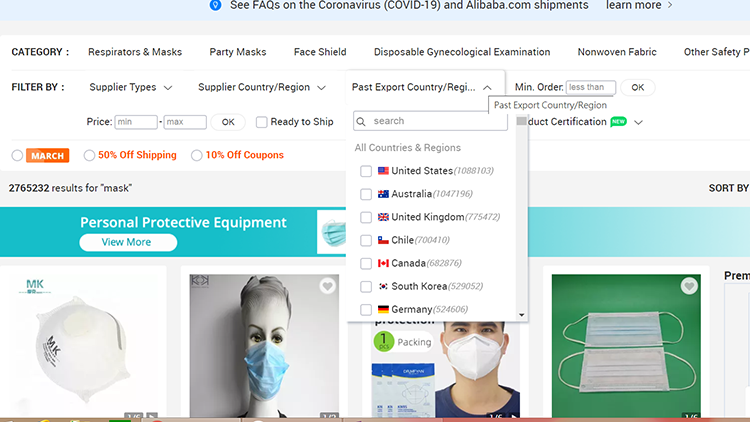 If you have a quality requirement and require Certification from an authority, you can choose Management Certification or Product Certification.
If it is a very urgent order, need for immediate delivery, you can choose Ready to Ship, this means the seller has stock, which can be shipped immediately.
MIC is an online world of information on Chinese products, providing e-commerce services for Chinese products to the world, aiming at introducing Chinese products to global buyers through the Internet. The MIC website only lists Chinese suppliers, which are also divided into factories and traders.
Features: Online display, Online transactions
All of the MIC online vendors are from China, so if you're only interested in Chinese products, you're in the right place.
For example, if you are a wholesaler of Jeans and want to source women jeans factory in China. You can type the keywords "women jeans" in the main page.
There will be no vendor location option in the search results, as all vendors are Chinese.
Once you find the right product, you can contact your supplier, chat online, or send an e-mail or call directly.
You can also place orders directly online, using an online trading system called crov.com. If you have a registered the Crov account, you can pay directly from Crov's account. If you don't have a Crov account, the system will automatically register a new Crov account with your MIC account. Crov supports all kinds of credit card payments.
Globalsources is a B2B online and offline display platform that provides information about suppliers and products to buyers through trade fair, globalsources.com, trade magazines and mobile applications, promote trade between Asia and the rest of the world.
Features: Online display
Globalsources has suppliers from other countries as well as China. Its supplier type is also various, has the manufacturer, the exporter, and the wholesaler, the agent and so on.
For example of jeans supplier search. Type the keywords "women jeans" in the search box.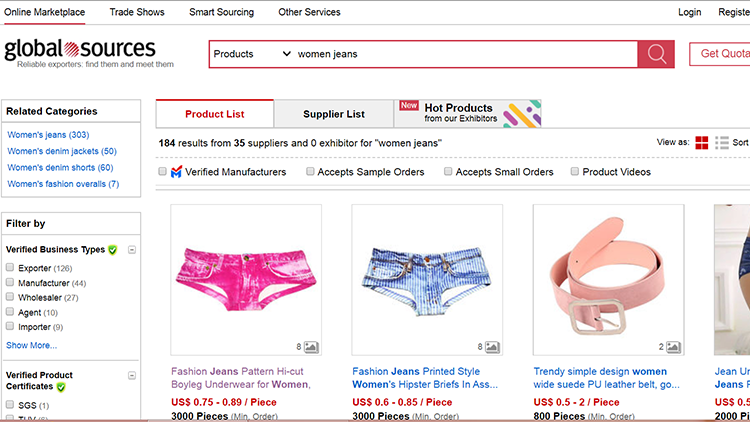 You can select the vendors from different region

If you find the right product, you can send an enquiry email to the supplier or make an online chat. You can also find their contact information, call them or fax communication
These are the three best online sourcing platforms in China. They have their own characteristics.
Both Alibaba and MIC can be traded online. Globalsources serves primarily as a bridge between customers and suppliers, all transactions need to be handled offline.
The table below is a comparison of the three characteristics.
Of course, Sourcing products and suppliers are only the first steps in a business. There are many steps to deal with in a multinational business.
For example,
Did you find a reliable supplier?
The real supplier or the CON man?
A factory or a middleman?
What is his production capacity?
Does he have the relevant export qualification?
These are all very important issues in cross-border procurement, and great care must be taken to prevent double losses.
Join our
Newsletter
Join today for free to get the latest news