This is one of the sourcing services.
We will find the right supplier for you in an easy-to-understand way
Are you bothered by suppliers?
Do you have any of the following problems in your business?
If any of these bother you,
then you need the Supplier Sourcing service
Partnerships for authentic experiences.
"As we move forward in this battle, let us be exalted by the conviction that those working for a great and noble cause will succeed."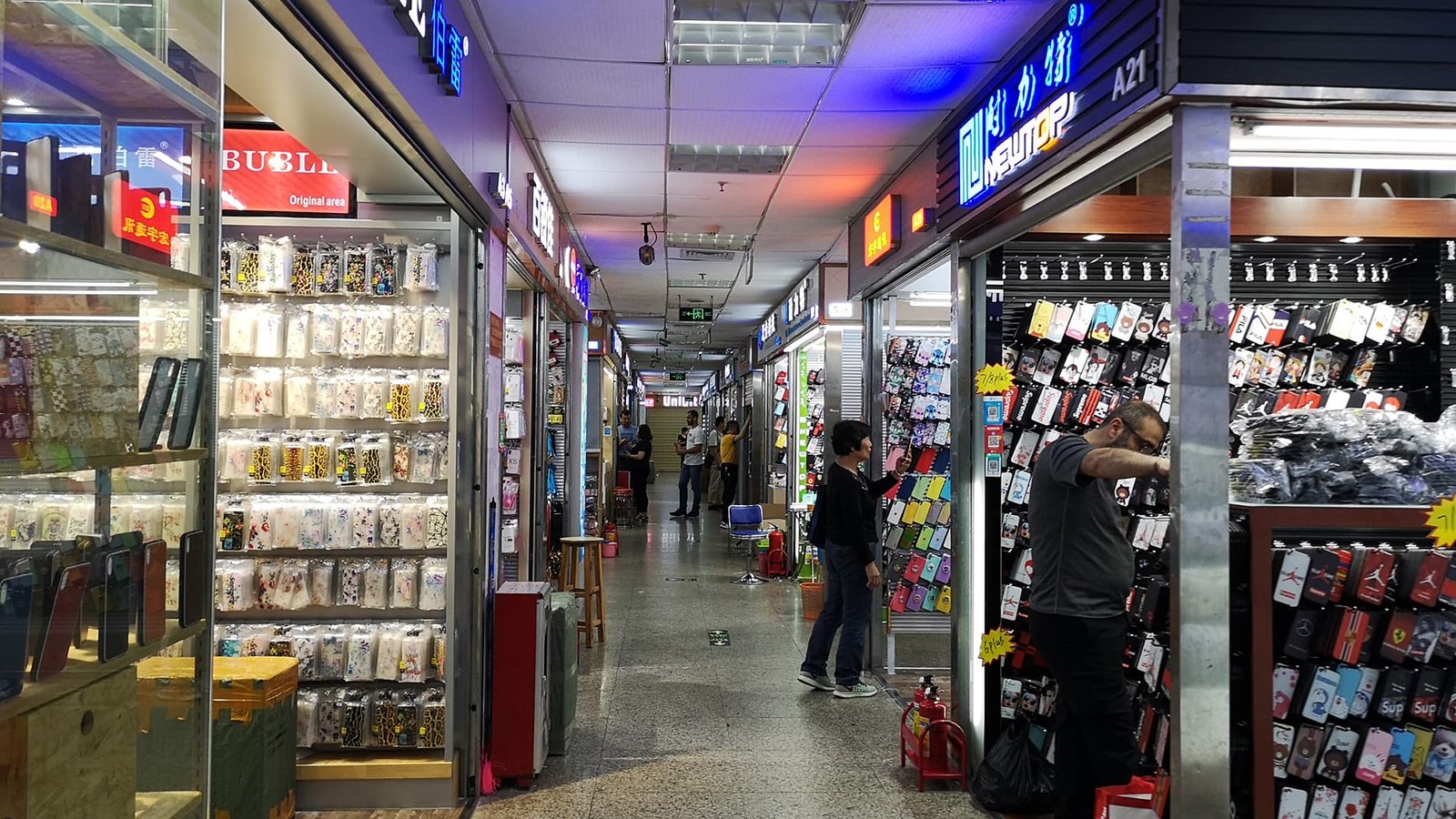 We ought to provide more flexibility, primarily based on insight, to better meet your desires.

Usually, we source suppliers through international B2B platforms (Alibaba, MIC, Globalsources), and we also source wholesalers on Chinese domestic websites.
There is another way to source the suppliers through local wholesale markets, or we search for corresponding factories on professional forums.
We work alongside you for guaranteed results.
When you submit your requests, then there will be a Professional consultant to contact you at the first time to communicate all the details.

We will carefully record all your requests and search for the suppliers. After that will be a further verification and screen step in the results.

We need to identify the real supplier as reliable by searching the information. The last step is to send you a detailed survey report.
Common ways of Sourcing Suppliers
International B2B marketplace
The international B2B platform has always been the most convenient and fastest way for multinational procurement merchants to find suppliers. You just need to click the mouse to contact factories or companies thousands of miles away
Local Business Community
There will be professional online forums for each industry, whether in China or any others. The industry forums are full of practitioners, who are discussing the current situation, development prospects or technical problems of the industry.
China local B2B platform
There are many high-quality suppliers opened company displays on the China domestic B2B platform. They are unable to communicate in English or other languages since they don't know them. However, their products quality and their business conduct is excellent
Industry Resources
Another way to source suppliers is to use industry resources through friends. You can easily find the corresponding supplier without having to go to great lengths. For example, we can easily find the clothing supplier because we worked in this industry for more than 10 years
The candidate suppliers found according to the ways above need a further detailed verification to avoid unnecessary losses
Basically, supplier verification or vendor validation is the process of ensuring that a prospective supplier is both legitimate and reliable. 
This is a very important step of supplier sourcing to avoid being deceived.
Business Licenses, Credentials, Permits
Contact Information (Email, Phone Numbers, Etc.)
Validation Report
The supplier information after careful screening and verification, will be sent to you as a detailed report. Just leave us your Email.
Download the Report
You can also download the validation report by yourself just with a click. We`ll share the report link with you by private email..
Now that you are familiar with all the processes of our supplier sourcing, are you thinking about sending your request?
Now let`s get started!
View The successful Projects...
The most complete guide for Supplier Sourcing
What is supplier sourcing meaning?
Supplier sourcing refers to identifying a supplier who can assist your company in achieving its goals in terms of cost, quality, and deadlines.
In other words, supplier sourcing is the process of selecting, managing, and vetting the right vendors.
Finding the right supplier at the right time is one of the key strategic factors in the rapid evolution of production needs.
Is it important for supplier sourcing?
The main objective of supplier sourcing is to reduce purchase risk. In a business, sourcing and selecting suppliers are critical. Several factors contribute to it, such as reliability, reputation, cost, service, and value for money.
A best-fit supplier will provide products or services that meet your business's requirements. Hence, it's crucial to determine your business needs clearly before choosing a supplier. It requires an upfront investment, but it's vital to creating an efficient supply chain.
How many ways to source new suppliers?
Nowadays, information technology is highly developed. Thus searching for everything has become easier than ever before. You can quickly find out the result through your cellphone or computer even if you are joining coffee at home.
There are serval ways for sourcing new suppliers.
Search engines are the easiest and fastest way to find information. No matter where you are, and whenever you can find the information you need by typing the keywords on search engines.
The following search engines are preferred by everyone.
The most popular search engine in the world. Everyone likes to search the information on google, and the search results will always not let you down.
For example, if you want to find a China jeans factory for your jeans wholesale business. You can input "China jeans factory" on Google. There will be a list of search results. If not all the search results are matched your idea, thus you need to choose and select it from the list.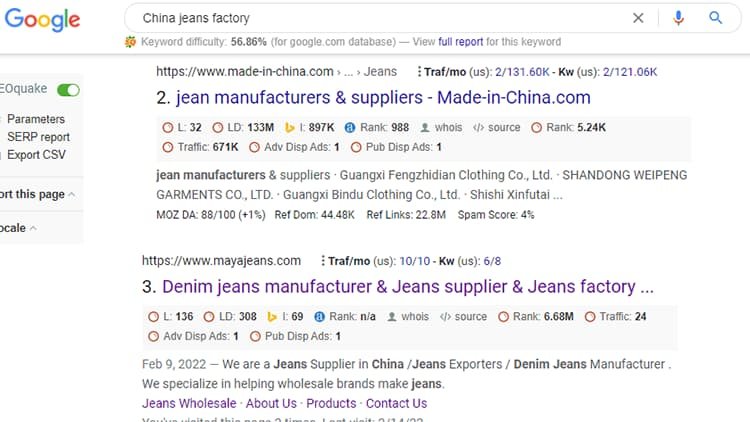 It is a web search engine owned and operated by Microsoft. It is also a popular search engine.
The search results are something different from Google even with the same keywords. We tried the keywords "China jeans factory" on Microsoft Bing. The search results are just like the photo.
So you can use Bing to source new suppliers besides google. There may be some right ones that surprised you.
The internet search provider that uses Microsoft's Bing search engine to power results. So the search result will the same as Mircosoft Bing. But sometimes different.
We try it also with the keywords "china jeans factory".
We can see even we are going to search the new suppliers on the search engines, there are also some other websites besides the Chinese supplier websites shown on the search results. These are the China B2B websites.
Therefore, it is not enough just sourcing on the search engines for sourcing new suppliers. We need the China B2B websites to get more potential vendors.
Actually, there are a mass of B2B sourcing platforms all over the world. But we just talking about China B2B platforms. There are some of them are famous in the world.
"Global Sources is an internationally recognized B2B sourcing platform that has been driving global trade for more than 50 years. The company connects authentic buyers and verified suppliers worldwide with tailored solutions and trusted market intelligence through trade shows, digital platforms and magazines." — GS
These B2B platforms are very convenient because they are full of real suppliers, you just need to enter your product keywords, find matching suppliers and then filter the most suitable ones.
For more information on how to use these B2B sourcing platforms, check here
Exhibitions are one of the traditional ways of sourcing China manufacturers.
There are countless exhibitions in China that take place every year in different cities. Attending a high-quality industry trade show will allow you sourcing China manufacturers quickly that match your industry.
What`s more, you can meet the suppliers face to face. This is a great time saver.
Some of the exhibitions in China are as follows, you can visit the official website by clicking to get more information.
Besides the ways above, there`s another way to source suppliers quickly and easily is that using the social App.
With the popularity of smartphones, people's contact gradually changed. People no longer sit in the office to check their emails, and they don't use their bulky computers to browse the web anymore, but use their smartphones anytime and anywhere.
More and more people like to share their business or products on social apps. So we can get in touch with them through social apps.
Right now the most popular social App is the following:
The quickest and most convenient way for manufacturing sourcing is to be introduced by an acquaintance.
A reliable friend who recommends a supplier he has worked with before will be much more credible than the one you find on the Internet. Because you are friends, he will not deceive you, and in the same his suppliers will not deceive you.
How do you source a vendor?
As a sourcing company, Once we get an inquiry from the customer, we will contact the customer for the first time to communicate the details of the request.
Then follow the steps below to start the job of sourcing a vendor.
1. Search the keywords through the China B2B marketplace (generally English websites like Alibaba, Made-in-China, Globalsources) to find out the matching potential suppliers no matter they are manufacturers, factories, or trading companies.
2. Sourcing on the Chinese domestic B2B marketplace(1688, hc360, chinagoods, yiwugo) to get the candidates' contact information.
3. Post the inquiry on the local industry forum, then collect candidate suppliers' information.
4. Search on the local wholesale markets, get the name cards from the markets.
5. List all the candidate suppliers through the ways above into a form, analyze which company status and products match the customer's needs, and initially screen out the first batch of suitable potential suppliers.
The main purpose of this step is to filter out real factories or trading companies by removing those that do not meet the customer's requirements.
6. Make a comprehensive assessment to further filter out more matching candidates.
Company Name
Contact Information
Ownership Structure
Tax Information
Business Licenses
Credentials Insurance and Fraud Protection
Legal disputes

This is a supplier verification step by Identifying Legitimates or Scammers to reduce the risks.

7. Get in touch with the vendors by phone or email to confirm that the information is correct, and then discuss the arrangement of on-site visits.

8. Visit suppliers' factories/companies, take photos and videos.

9. Compile the final sourcing report and send it to the buyer by email or in other ways.

Once the report is sent, our Vendor Sourcing work is done. We are not involved in the transaction between the buyer and the supplier. Of course, if you need other services from us during the transaction, you can also send us an email.