Looking For Wholesale Jeans?
The wholesale jeans business is always overcrowded in the major clothing wholesale markets in Guangzhou. 
Because denim is wear-resistant, stain-resistant, and stylish, the wholesale jeans business in China is growing steadily every year. According to incomplete statistics, China produces more than 2.5 billion pieces of denim clothing every year.
Along with the renewal and development of denim, the output of denim clothing is increasing all over the world.
According to the data, in Europe, almost 50% of people wear denim in public. And in the Netherlands, 58% of people wear denim. 46% of people wear denim in Germany. However, 42% of people in France prefer to wear denim. America has the most denim wearers in the world because almost everyone has 5 to 10 or more. 
In short, denim apparel will become indispensable content in the lives of consumers around the world.
Due to the high demand for jeans, the number of businessmen coming to China every year to purchase/import jeans denim garments has also increased. Guangzhou's major wholesale clothing markets are full of foreigners, and the annual bi-seasonal Canton Fair in Guangzhou always has more customers sourcing apparel than other industries.
These small importers or wholesalers who come to China will encounter almost the same problems.
These problems are encountered by every buyer who has just come to Guangzhou. However, as you become more and more familiar with Guangzhou, these problems can be solved smoothly.
I will explain these questions in detail below.
1, Where to wholesale jeans?
The most convenient way to buy jeans is, of course, to go to a professional jeans wholesale market.
Among the so many clothing wholesale markets in Guangzhou, several markets are specialized in wholesale and customization of denim clothing. We`ll show you one by one.
(1) Zhanxi Clothing Wholesale Market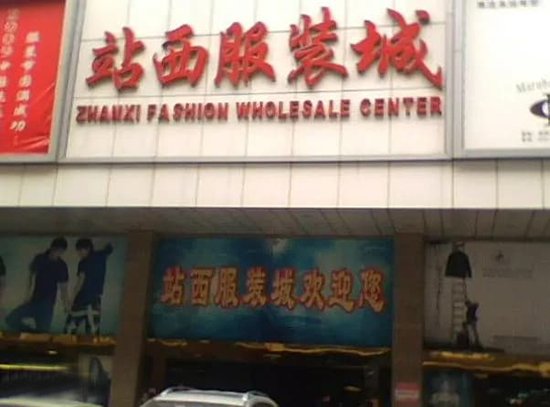 It is located near Guangzhou Railway Station. Zhanxi Clothing wholesale city consists of several different clothing wholesale markets, mainly for foreigners, because thousands of foreigners buy clothing products here every year. The foreign trade jeans here are of good quality and at high prices.
Basically, famous brands in the world can be found. The starting quantity in this market is not high, and more than 10 pieces of a single item can be traded. If you are a retail owner of boutique jeans, and if you are not very price-sensitive, then the high-quality, high-price wholesale jeans here should be more suitable for you.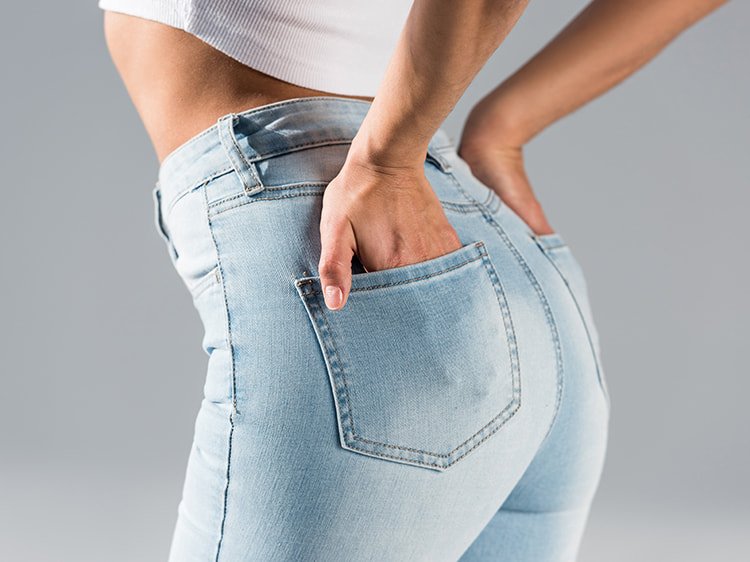 You can get all kinds of women's jeans for wholesale with different quality and the different price
Wholesale mens jeans are available at these markets. You can choose from a variety of styles with varying qualities and prices
The best choice for your fashion design is children's jeans. The market offer jeans to children aged 0-14 years. 
(2) Shisanhang fashion Wholesale Market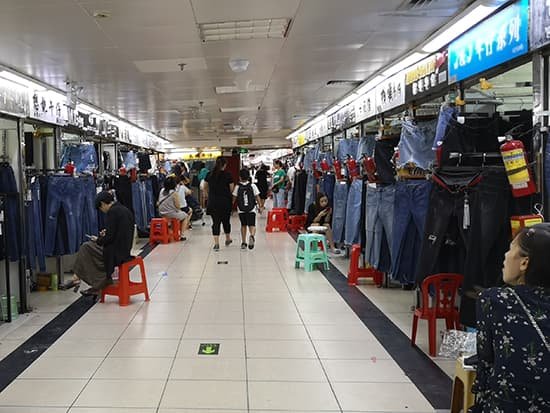 Shisanhang is a very well-known clothing wholesale market in Guangzhou, and its products are mainly women's fashion.
On the basement floor of this market, there is a dedicated wholesale area for women's jeans.
The products are of average quality and at low prices. But the women's jeans here are more fashionable, following the popular styles of the famous brands, and it is the favorite place for many people who do fashion women's clothing wholesale.
The biggest feature of denim wholesale here is that it is fast. Every day, the market opens at 5:00 in the morning and closes at around noon. Orders are received in the morning, cloth and accessories are purchased in the afternoon, products are produced in the evening, and then delivered the next morning. No rest on weekends and holidays.
Skinny jeans wholesale is always a popular business. Any time in the women's fashion business, there is no shortage of skinny jeans.
The reason is that women's jeans are in high demand, and the price is relatively low.
Plus size jeans wholesale need to find the right suppliers who specialize in plus size clothing, and you should have good luck in this market.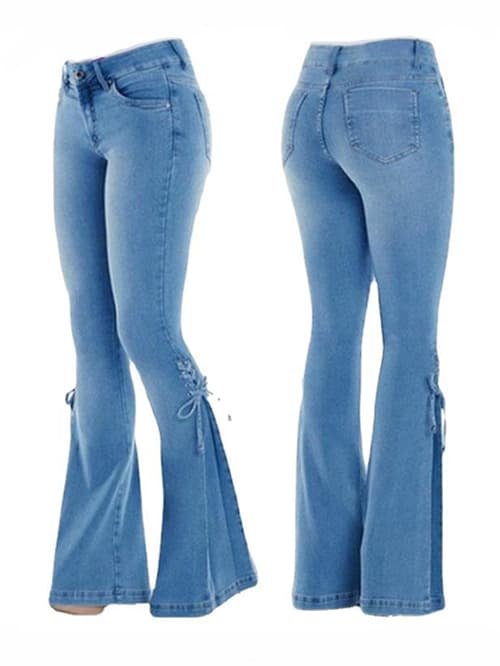 Bell-bottom jeans are essential in the jeans business.
No matter whether you are an importer, a wholesaler, or a jeans retailer, here is the market you should be for wholesale bell-bottom jeans.
(3) Shahe garment Wholesale Market
The jeans in the Shahe garment wholesale market are mainly at medium and low prices.
There is a dedicated wholesale market for men's jeans, as well as a wholesale market for women's jeans. The main customers are wholesalers and retailers in major local cities in China. Minimum order quantities are relatively small, and prices are low.
Here are plenty of professional denim shirt wholesalers on the market.
You can easily get a nice price for the denim shirts wholesale.
There offer a huge selection of wholesale jean jackets on the market. You can find a wide variety of wholesale jean jackets with styles and colors.
They are designed to keep you warm during the colder months of the year.
Denim dress for ladies always hot-selling on the wholesale markets.
Ladies are happy to follow fast fashion. Thus wholesale denim dress become fast.
(4) Guangda wholesale market
Guangda wholesale market is a comprehensive tail goods wholesale market.
The main business categories are business casual clothes, down jackets, denim clothes, sweaters, underwear, children's wear, sportswear, etc.
All products are out of stock, that is, the canceled orders by the customer, stocks of overloading, the factory's warehouse clearance, etc. So the prices are lower.
In this market, sometimes you can find jeans of good quality at a very cheap price.
Denim shorts wholesale is hot in every summer time. It's always clear that denim shorts are the favorite of women in summer, and one can always find pretty girls wearing denim shorts on the sunny beaches.
You can find denim skirt wholesale on the market also. Whether the long denim skirts or short skirts, lots of girls are like them.
It is the right choice for those who like cheap items in this market. The market is devoted to the production of cheap men's jeans. You can find various kinds of jeans here, including selvage denim jeans, distressed jeans, and so on.
(5) Xintang Jeans Wholesale city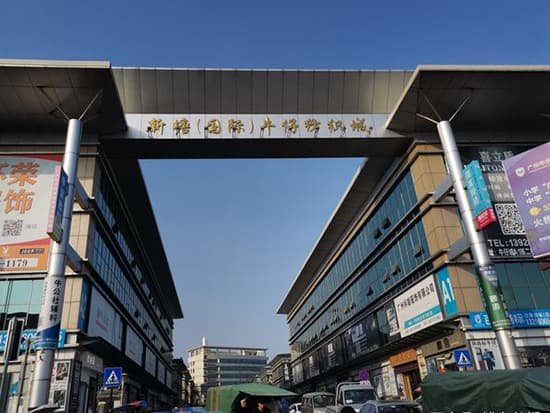 Xintang is a town in Guangzhou City, a professional denim production base, where 80% of the country's denim manufacturers are located.
So, at the denim wholesale market in Xintang, you can find any type of jeans you want.
The price here is not high, because many of the jeans wholesalers here are jeans factories nearby. Although the price of the factory is not high, the MOQ requirements are large.
If you purchase in small quantities, this market may not be for you.
But if you are looking for a direct factory for OEM production, then here is a good way. Maybe you can find a jeans manufacturer that is very suitable for you.
Many wholesalers on the market sell products online. You can get it on aliexpress.com or other websites.
Nearly 80% of jeans manufacturers in China are located around this market.
2. How to find these markets?
The official addresses for these markets are as follows:
Zhanxi Clothing Wholesale Market: 184# Huanshixi Road, nearby the Guangzhou Railway station.
Shisanhang fashion Wholesale Market: Shisanhanglu Road, Liwan District
Shahe garment Wholesale Market: 40#, Lianquan road, Tianhe District
Guangda wholesale market: Shitanxi road, Baiyun District
Xintang jeans Wholesale City: 124# Guangshen avenue, Xintang Town, Zengchen District
These markets are easy to find by taking a taxi from any hotel in Guangzhou.
Some foreigners find a local guide in Guangzhou and drive directly to the market. Because many guides can speak English, so it is easier to communicate than taxis.
In addition, some other people have their local sourcing agents in Guangzhou. These agents can drive customers directly to the market and can help customers negotiate prices, which can save customers a lot of valuable time and energy.
Click to view My Service
3, Will the suppliers interested in small quantities?
In general, wholesalers have stocks in the warehouse.
Therefore, the requirements for the minimum order quantity are not high. If a single purchase can cover all sizes, it can reach the minimum order quantity.
For example, a women's denim short, their sizes are 1-3-5-7-9-11-13, you take one piece of each size, then a total of 7 pieces, that is the minimum order quantity of this item.
However, if some models are not in stock and need to place orders at the factory, the minimum order quantity will be bigger.
4. Can wholesalers in the market do OEM orders?
Many wholesalers in the market are middlemen, but almost all of them say that they are factories. Even if you place an OEM order for him, they will also take it and guarantee no problems.
In fact, most of the wholesalers in the market are just trading companies, they do not understand the professional production knowledge of products; only a small part are real factories, then they understand products and technology.
Therefore, if you want to make your private label products, then you need to find the right supplier and find a supplier who understands the production technology.
(Click to view: How to distinguish factories and traders)
5. How to control product quality?
The products purchased in the wholesale market are generally finished products that are shipped directly from the warehouse.
Therefore, product quality control is mainly through random sampling.
Take the purchase of jeans as an example.
Before shipping, random sampling is taken for the packaged goods to check whether the bulk goods are consistent with the sample, whether the quantity is correct, and whether the color and size are the same as the order. Finally, pay attention to whether it is damaged or not.
If it is an OEM order, which is produced and shipped in the factory, then it is necessary to control the quality from the start of the factory production.
At this time, the quality inspection is divided into three parts: pre-inspection, inline-process inspection, and pre-shipment inspection.
Of course, the most convenient way of quality control is to outsource it to a professional quality control company or a purchasing agent.
Click to view my purchasing services.
6、How to deliver when time is urgent?
Many foreigners who come to the wholesale market for purchasing are on short-term visas, a tourist visa for a week or so.
After the purchase in the market is completed by placing an order, the time to back home is up.
Therefore, the supplier can't contact the customer and many goods are not ready to be delivered.
This problem is very well solved.
Before all foreigners come to China to make purchases, they will contact a shipping agent who is responsible for transporting the customer's goods from China to the destination country. The shipping agent will have its warehouse and can store the goods for free for the customer. So the supplier's goods can be delivered directly to the shipping agent's warehouse.
Some sourcing agents also have their warehouses, where they can collect all orders from customers and load them together for shipment. The advantage of purchasing agents is that they can help customers to keep track of the progress of purchase orders and control the quality of goods, which can save more time and effort for customers.
7. What are the payment methods?
The most common payment methods in the wholesale market are cash, bank transfer, online transfer, etc.
Many merchants in the wholesale market are small companies, and the most common method of payment is cash. If you pay in USD or CNY, they will love it.
Some merchants have opened online stores, such as Alibaba, Aliexpress, eBay or Amazon, etc. You can pay online through Alipay or Paypal.
(click to see the difference between Paypal and Alipay)
There are more and more payment methods now, and there are corresponding solutions for large purchases and small wholesale purchase payments.
The wholesale of jeans is generally a small payment, you can communicate with the supplier about the payment method before placing the order.
Summary
From the above problems, we can easily see that it is not difficult to buy wholesale jeans in China. As long as you have a qualified purchasing agent, every problem can be solved.
But there is another problem here:
Purchasing agents problem
1, The purchasing agent is not familiar with the market.
The sourcing agent faces a variety of customers and purchases a variety of different products. They may not be familiar with jeans or professionals; also they are not familiar with the jeans market in Guangzhou.
Maybe he can take you to find the wholesale market in Guangzhou. But many agents do not know which area of the market the jeans section is in.
Due to the unfamiliarity with the product and the market, the purchasing agent will waste a lot of your time and energy.
2, Jeans quality control requires professional knowledge and experience.
For jeans purchased in the wholesale market, quality inspection is relatively easy.
Because the sample has been confirmed before placing the order, the quality check before shipment is mainly to detect whether the bulk goods are the same as the sample.
The main aspects are as follows.
Quantity: For the quality inspection, the right quantity delivered is the first of all step.
Style: Confirm that the bulk goods are the sample as the samples, to avoid mixing different products into the goods.
Color: Confirm the color of the goods according to the customer's requirements.
Size and ratio: Different customers have different requirements for size and ratio, so we should strictly check whether the size and ratio of the bulk goods are the same as the order requirements.
Packaging requirements: Due to the characteristics of the mode of transport, the guests have their own packaging requirements, and the supplier needs to pack the goods according to the buyers.
This is to avoid damaging the goods in the process of transportation.
For factory OEM orders, quality control is required from the denim fabric until the product is packaged and shipped in containers for quality inspection.
Seemingly simple wholesale jeans, from finding the right wholesale market to purchasing the right jeans, to product quality control, and transportation, every link needs to be very careful. If any one part goes wrong, the buyer will lose money and time.
If you are a jeans importer or a wholesaler, or if you also have such purchasing confusion and want to wholesale jeans from China, in that way, finding a suitable purchasing agent will save a lot of time and effort.
And maybe you like a local purchasing agent in Guangzhou to help you with the purchase of jeans, you don't have to come to Guangzhou, the better way is to contact me. 
Looking For Wholesale Jeans?
Jeans factory
Sourcing
Here is the video about the sourcing jeans factory service